Let's Enjoy Japan's Early Summer! Hokkaido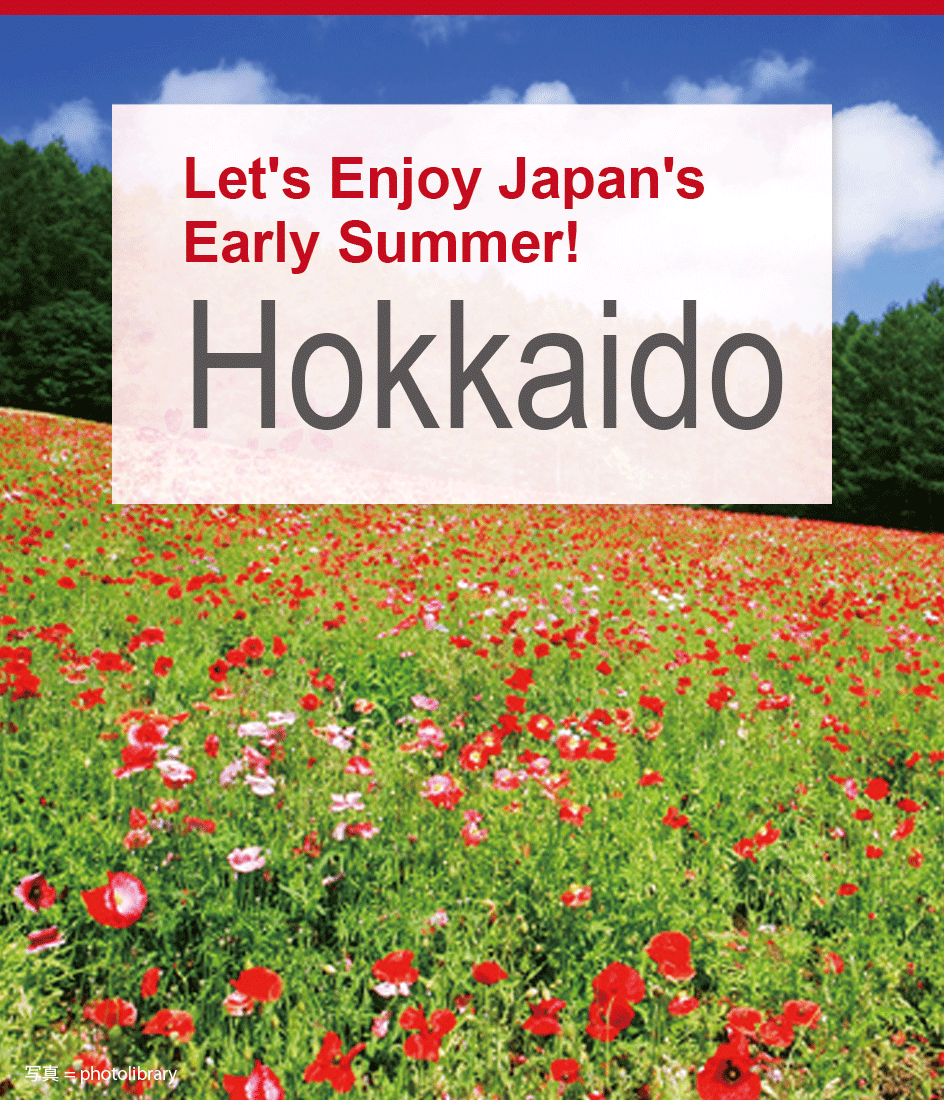 In the upcoming season, the best place to visit in Japan is Hokkaido, where the air is cooler. Accessible from Tokyo in about two hours by plane, Hokkaido is an attractive place where there are still large swaths of untouched nature, making it an increasingly popular destination among tourists from abroad. You, too, will surely be delighted by the many beautiful landscapes.
Nakajima Park 中島公園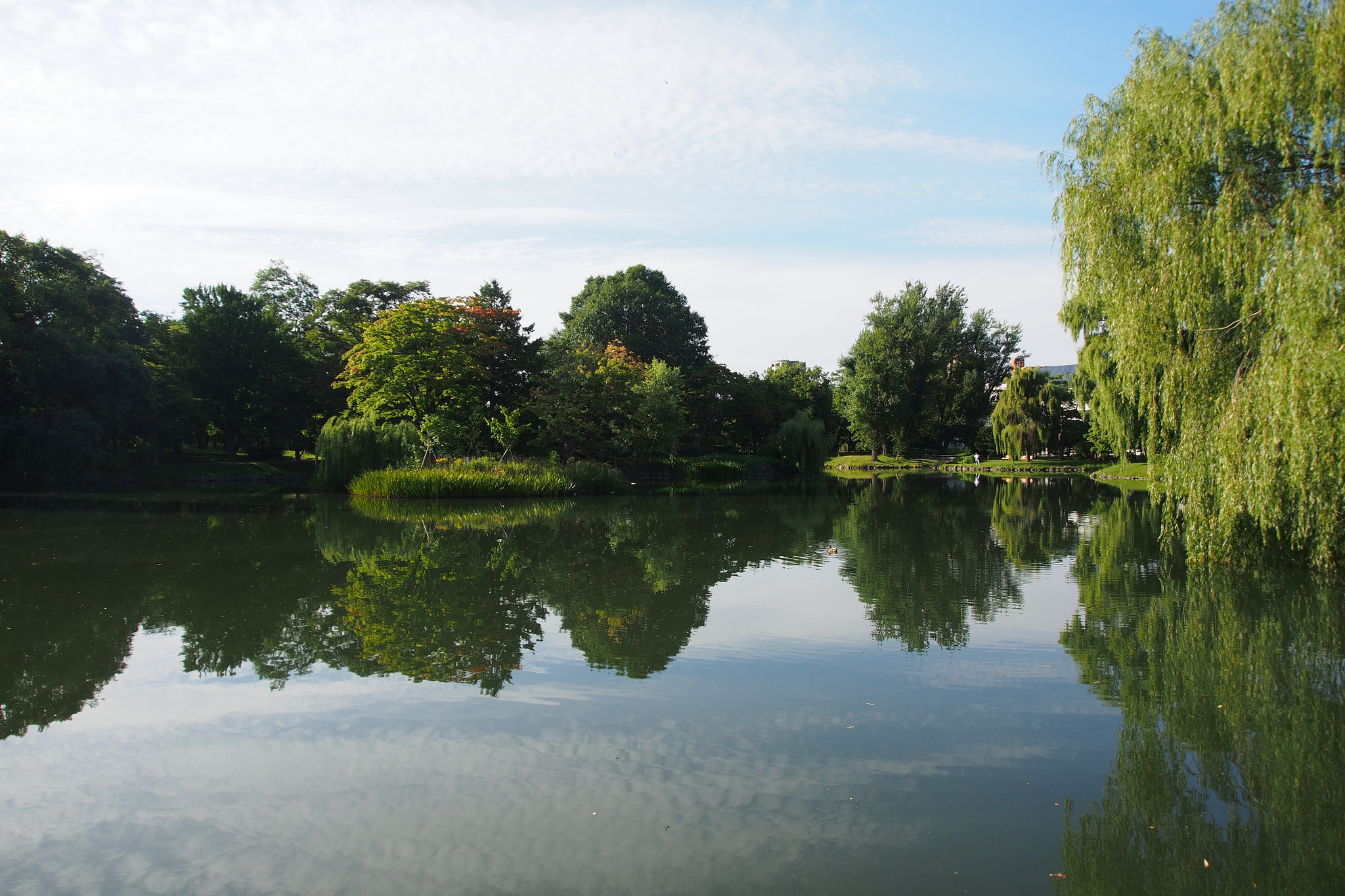 Located right in the heart of Sapporo, Nakajima Park is a place where you can relax amidst colorful foliage that shows a distinct beauty at any time of the year. The spacious park is also home to "Important Cultural Properties" designated by the Japanese government, such as the Hasso-an tea house and the Hoheikan building. The park also houses the Kitara concert hall and an observatory among other features, making for a relaxed and entertaining stroll.

Takino Suzuran Hillside National Park 滝野すずらん丘陵公園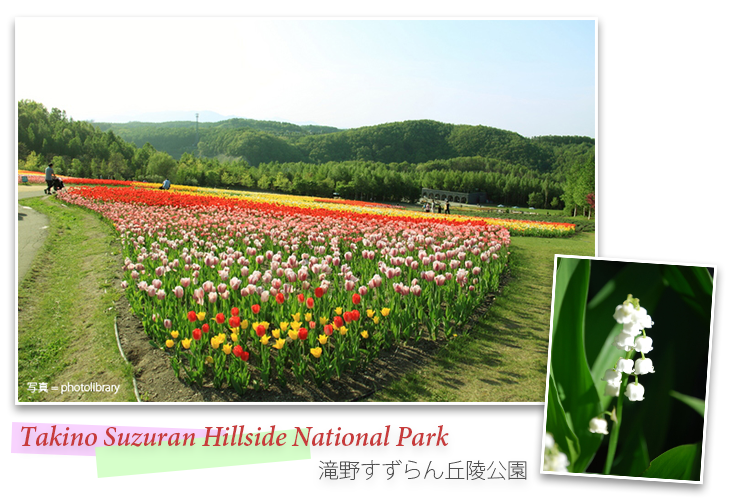 A national government-owned park in the south of Sapporo City. In an area approximately 100 times the Koshien baseball stadium, the vast park is divided into three zones, each of which boasts a distinctive landscape: Central Zone, Mountain Creek (or "Keiryu") Zone, and Takino Forest (or "Takino-no-Mori") Zone. The Takino Forest Zone is further divided into the East Area and the West Area. The Central Zone is adorned with lilies of the valley (or "suzuran"), tulips in the springtime, and various other plant types, adding up to about 800 in total. In the Mountain Creek Zone, the Aribetsu Falls cascade down a height of 26 meters, making it another place worth including in your itinerary.

Mount Hakodate Observatory 函館山展望台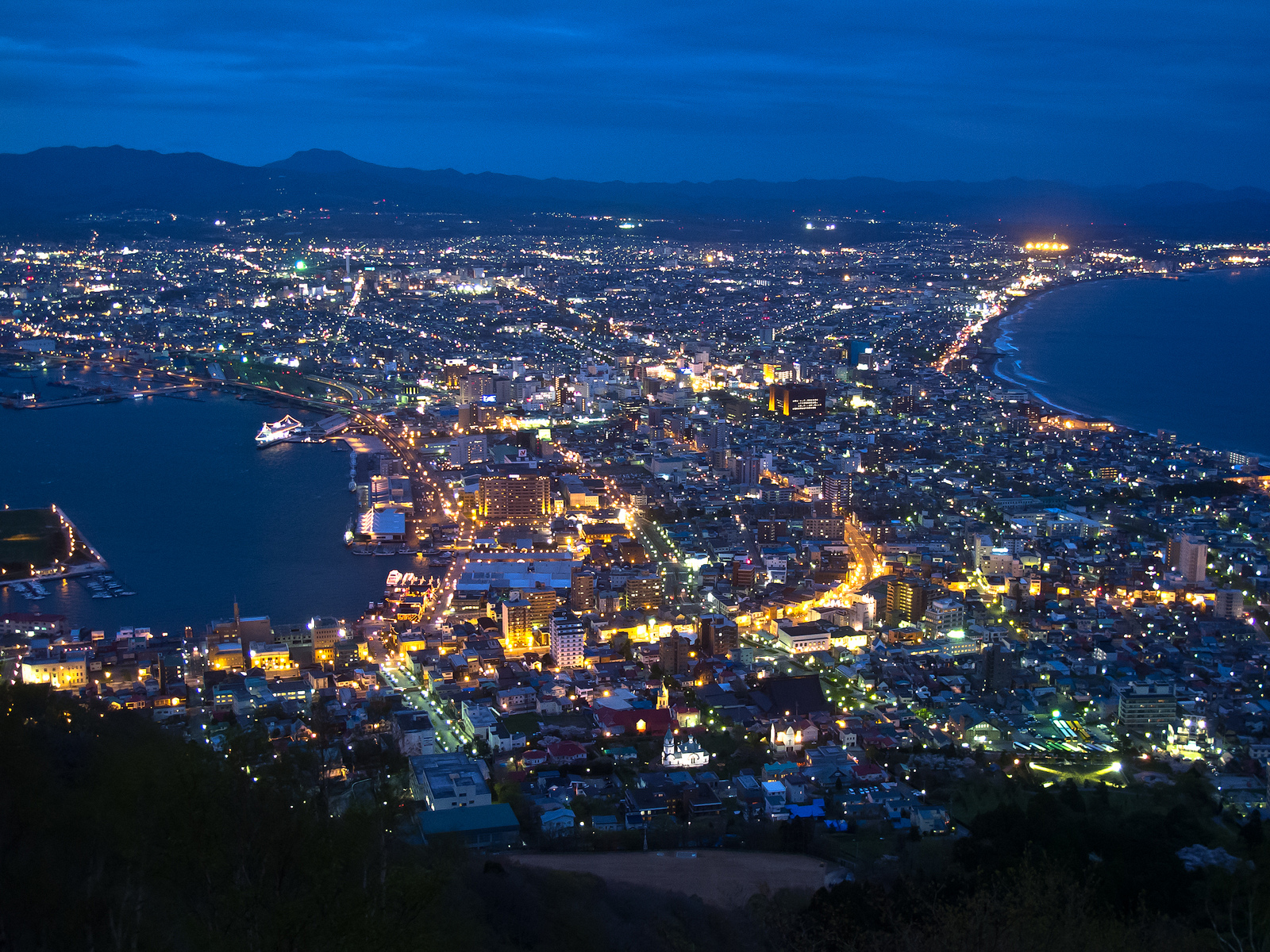 This observation deck is located atop Mount Hakodate at an elevation of 334 meters. Although the deck offers a beautiful view of Hakodate City anytime, the most recommended time of the day to visit is from the early evening through nighttime, when the city of Hakodate shines brighter and prettier than diamonds! You can get to the observatory by car or the mountain bus or even on foot, but taking the "Mount Hakodate Ropeway" from the foot of the mountain is the most convenient. This cable car takes you to the top in just three minutes while you enjoy the vast panorama from within.

Goryokaku Park 五稜郭公園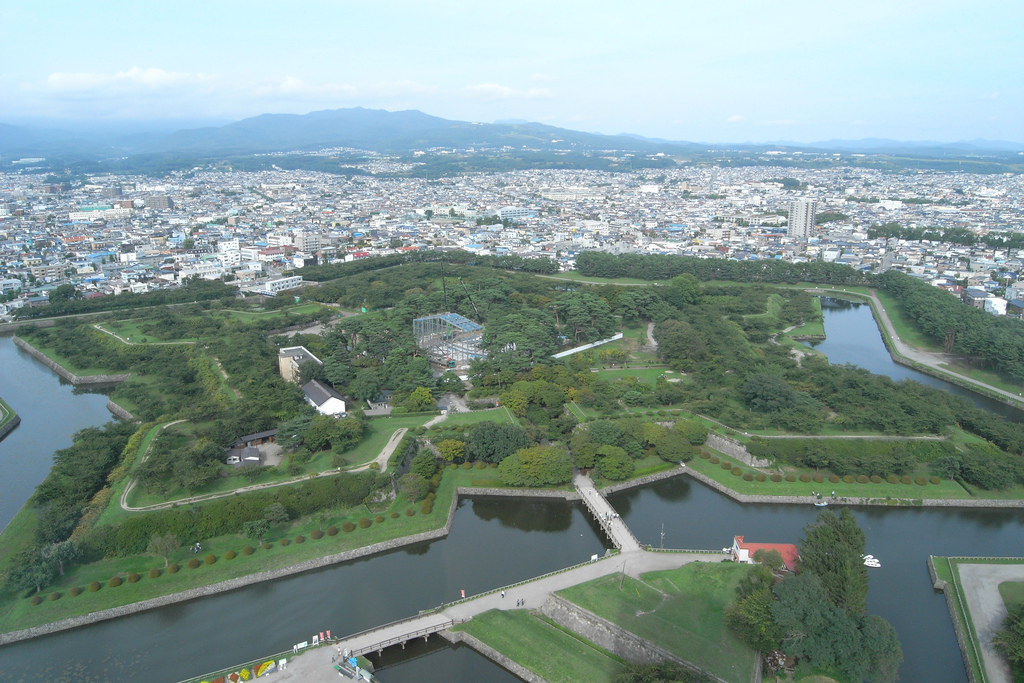 Made up of a fort and the surrounding grounds, Goryokaku was built in 1869 during the late Edo period by the Edo shogunate, the samurai regime that ruled Japan at the time. Today, it is open to the public as "Goryokaku Park." It is a famous site for cherry blossoms in the spring, but the rich vegetation has something to offer any time of the year. The Goryokaku Tower, built adjacent to the park, has an observation deck at an elevation of 86 meters which offers views of Mount Hakodate and Tsugaru Strait, as well as the star-shaped outline of Goryokaku.

Hakodate's Morning Market 函館朝市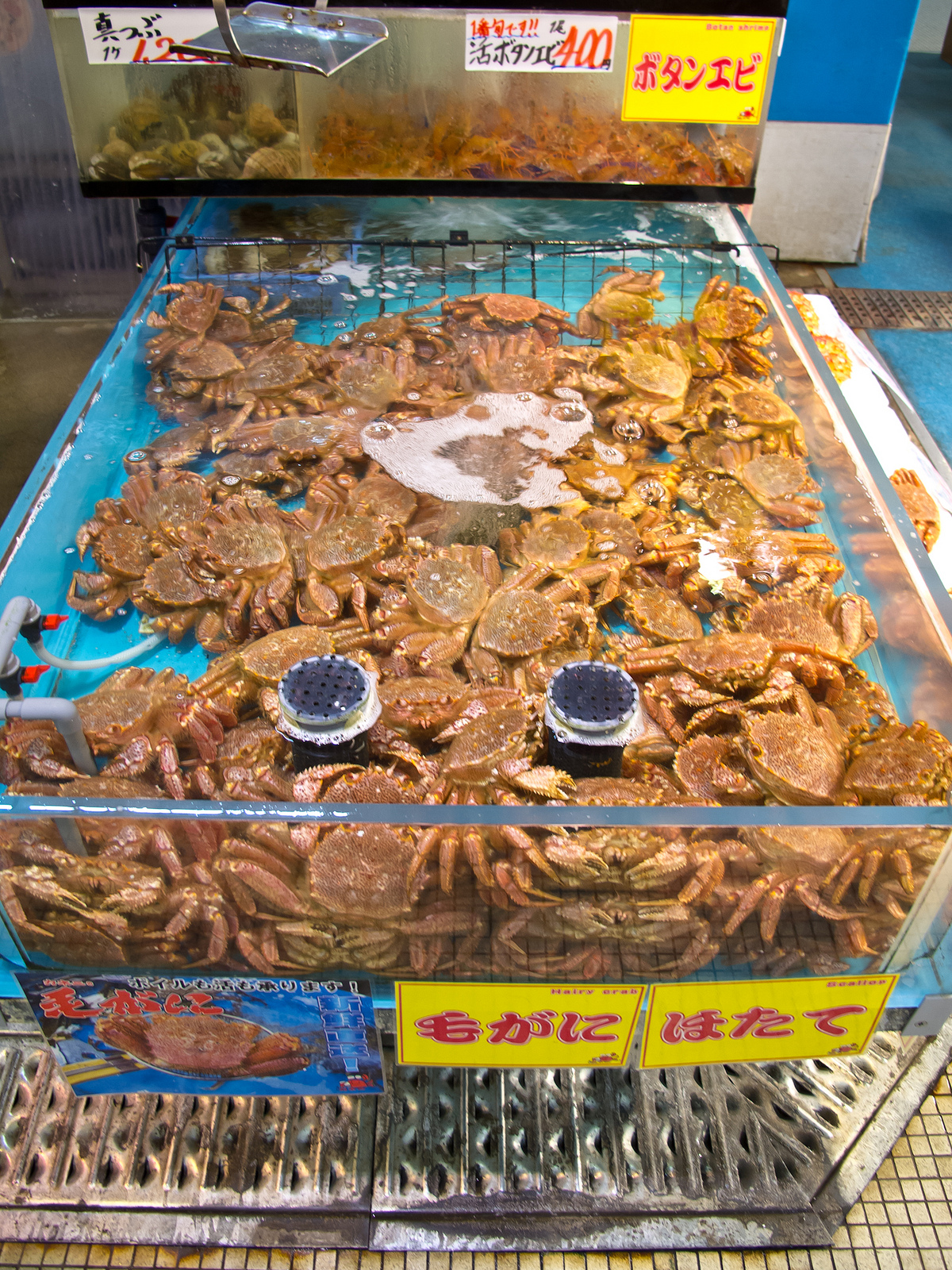 Located in front of Hakodate Station, this market is the place to get the freshest seafood. The fresh seafood that Hokkaido can afford, including crab, sea urchin, and salmon, is guaranteed to be tasty here. There are also numerous cafeterias at the market, which means you can taste on-site the classics of Hakodate gastronomy, which includes not only the array of rice dishes topped with seafood (kaisen-don), such as sea urchin bowl and salmon roe bowl, but also delicacies such as squid that are dressed only after you place the order to be served as sashimi.

Otaru Canals 小樽運河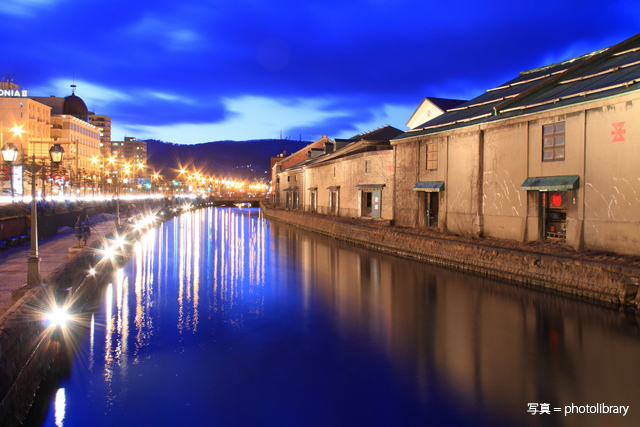 When Otaru served as the gateway to Hokkaido in the heyday of its economic development, canals were made in the city so that vessels could anchor close to the warehouses when offloading the cargo. Later, as the times changed and the canals became no longer necessary, the canals were set to be reclaimed. However, after reclaiming about half of them, plans changed, and the rest were made into a promenade. 63 gas lamps have since been installed along the streets. As for the canals and stone warehouses, they have been preserved in their original shapes (except for the narrowing of the canal widths by a half) and are being used today by restaurants and other establishments.

Flower Land Kamifurano フラワーランドかみふらの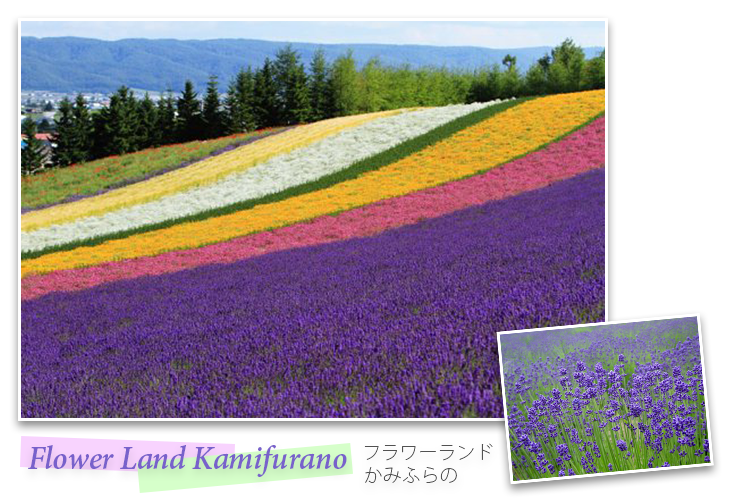 Flower Land Kamifurano is a large flower field with an area of 15 hectares (150,000 square meters), offering beautiful scenery full of blooming seasonal flowers. Jump onto a tractor-bus that runs through the field, and soak up the fresh breeze and pleasant smell of flowers that come your way! This is the place to indulge in a picture-perfect archetypal Hokkaido experience.

Shikisai Hill 四季彩の丘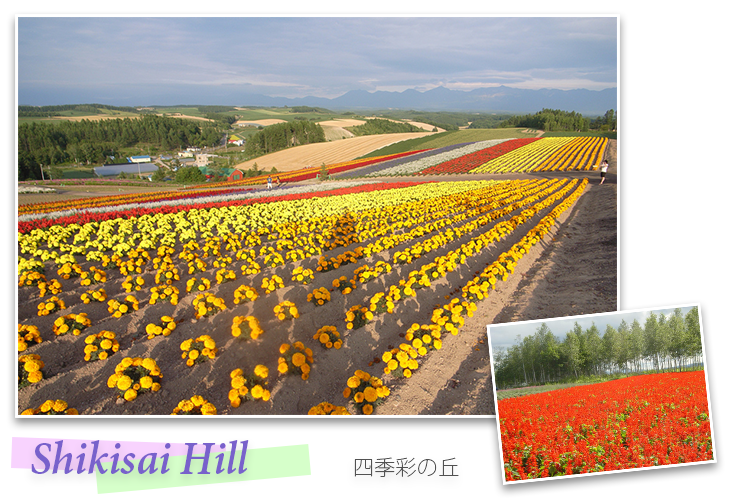 Surrounded by lush hills and the Taisetsu Mountain Range, Shikisai Hill (or "Shikisai-no-Oka") is a flower field that spreads across a vast area of 7 hectares (about 70,000 square meters) and is a representative landscape of Biei. At any time of the year, you will get to see 30 different kinds of flowers. Lavender, lupine, cosmos, and sunflowers are beautiful from spring to fall. The vast carpet of flowers is filled with vivid colors like a watercolor painting, and its beauty will take your breath away.

Asahiyama Zoo 旭山動物園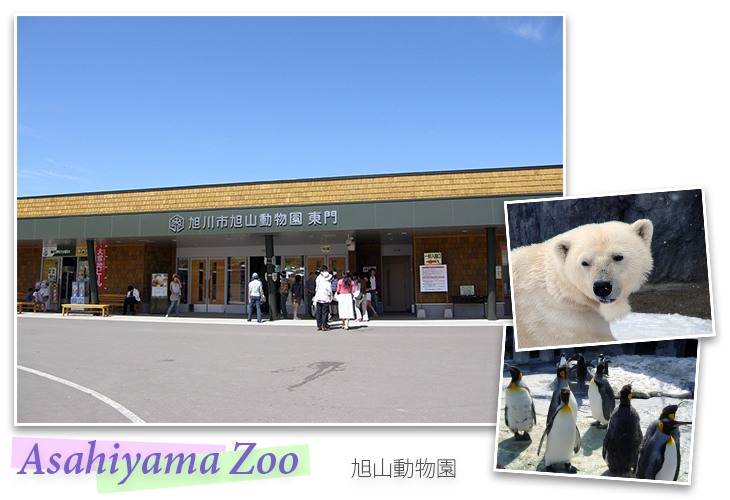 Thanks to the ample opportunity to witness the animals' lively behavior, this zoo is currently the most popular in Japan. You can see penguins swimming from inside an underwater tunnel or an orangutan enjoying a "walk in mid-air", 16 meters from the ground. You can also enjoy looking at tigers, leopards, and polar bears up close. By offering these and other services that are not offered at other zoos, Asahiyama Zoo brings entertainment to the next level.

Kamiyubetsu Tulip Park かみゆうべつチューリップ公園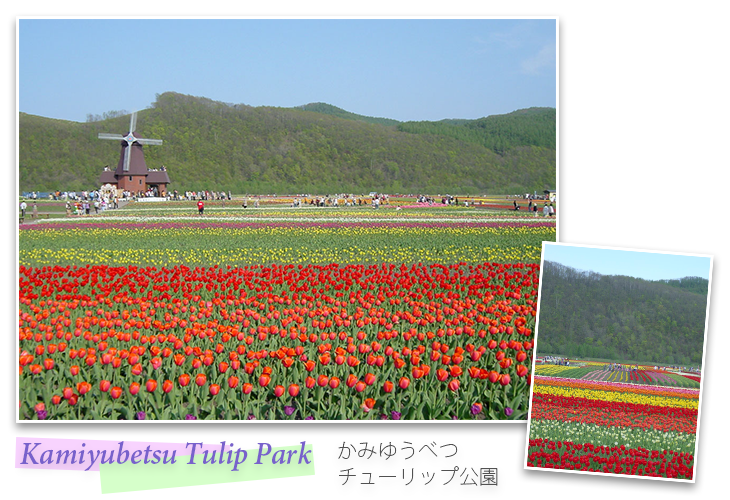 The annual Tulip Fair that is held each year in May will be held this year from May 8th. The park will be filled with 1.2 million tulips of about 190 different kinds, including those shipped straight from the Netherlands.

Shibazakura Takinoue Park 芝ざくら滝上公園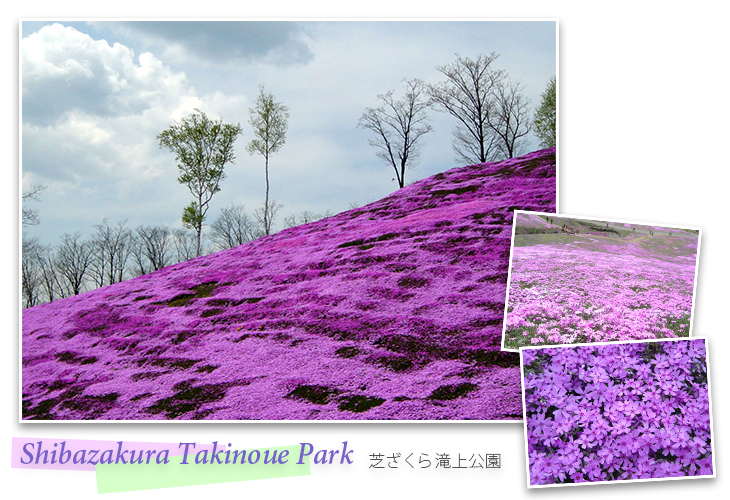 Takinoue is a town that is famous for its moss phlox (shibazakura) that blooms for about a month each year from early May. This year, the "Shibazakura Festival" will be held from May 10th through June 8th at the Shibazakura Takinoue Park, which is located on a hill in the center of town. Festivalgoers will be dazzled by the sight of the hill that will be covered by a beautiful carpet of pink flowers. The sight of shibazakura in full bloom across an area of 10 hectares (100,000 square meters) is simply breathtaking!

For your most impressive experience in Japan.

Hokkaido 2 Great Flower Fields: Shiba Sakura Takinoue Park and Kamiyubetsu Tulip Park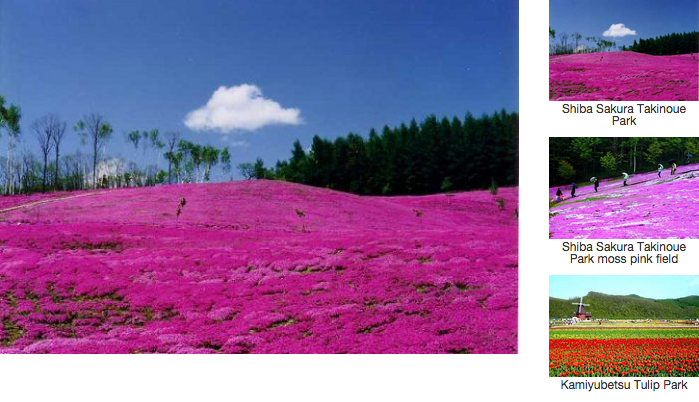 Highlights
●Stroll around Japan's Fashion Mecca Harajuku
★2 Great Flower Fields of Eastern Hokkaido♪
Visit Shiba Sakura Takinoue Park and Kamiyubetsu Tulip Park.
Relish a spring special lunch box and a Kamikawa regional speciality dorayaki Japanese pancake.
●Shiba Sakura Takinoue Park●
At Shiba Sakura Takinoue Park, a 100,000㎡-wide slope of the hill overlooking a valley is covered with shiba sakura moss pink. You will enjoy walking a 2km-long path in the middle of the hill.
●Kamiyubetsu Tulip Park●
About 120 varieties 1.2 million tulips are planted in the 7ha field of the 12.5ha-wide park. There are some rare species imported from Holland. A tulip fair is held from early May to early June every year, always attracting over 100,000 visitors.
Your Japan Travel Made Easy.

【Free & Easy Hokkaido】One-day tour around Asahiyama Zoo & flower town, and a crab & sushi buffet dinner included! 4-day in Sapporo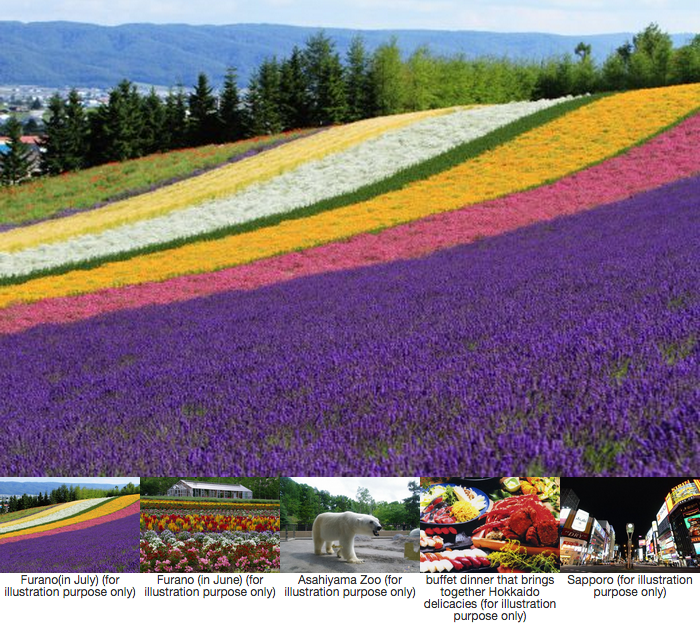 Highlights
★This package consists of 3-night acccommodation in Sapporo, one-day bus tour and buffet dinner made from Hokkaido local ingredients. With so many things bundled together, it's really a super value deal♪
★On Day 2, a sightseeing bus carries you around Asahiyama Zoo and Furano–the flower town! Embrace the majestic nature of Hokkaido!!
★On evening of D3, you will be treated with a buffet dinner comprising of crabs, sushi and salmon hot pot, which is a beloved representative dish of Hokkaido. Find yourself fully satisfied by Hokkaido delicacies.
★★No tour guide will travel with you. All necessary tickets/coupons will be delivered to you so that you can complete all the formalities during the tour by yourself. ★★
Find your Hotel or Ryokan.

Takinoya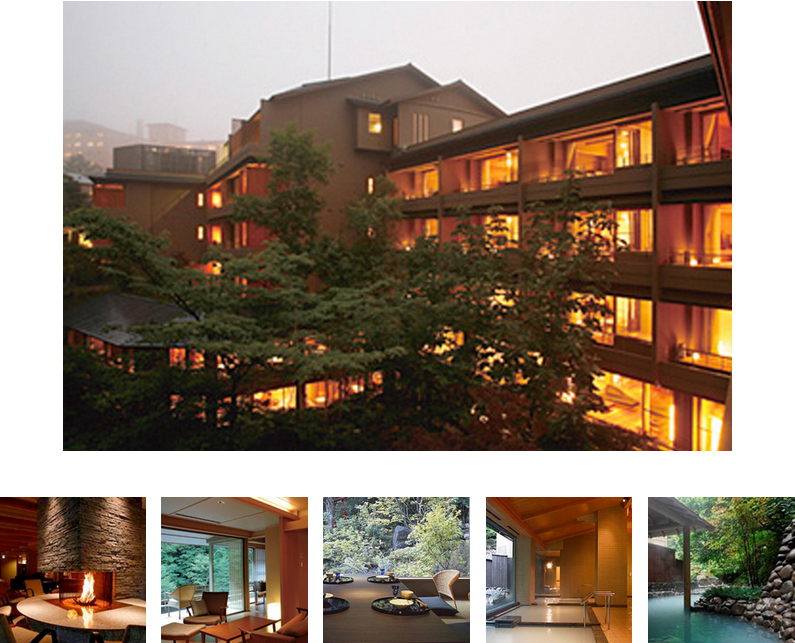 Detail
Takino is the name of ryokan and decorated the fore "ya"- house character in Japanese. This reflects the entire mind. Takinoya is the house of your mind. The most luxury is doing nothing and Takinoya hopes to disentangle your mind as it is to be. Please come to your hometown of mind at any time, at Takinoya.