Get the Most out of Hakone with Freepass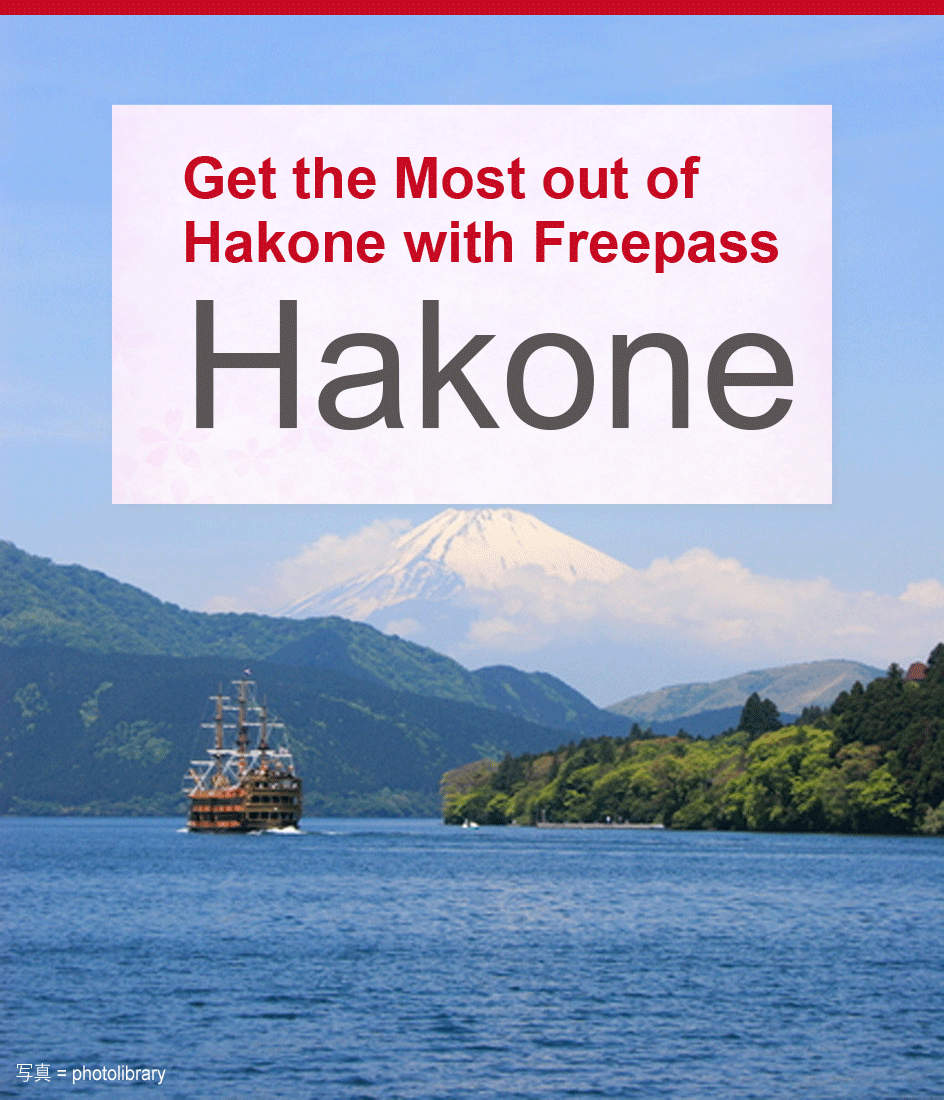 ---
Japan Meteorological Agency raised the volcanic alert for Mount Hakone to level 2 at May6.
Owakudani volcanic is off‐limits now. This action is effective only for the limited area near the Oowakudani vent, not expanded to the other Hakone area. Except Oowakudani area, the transportation services, hotels and inns, restaurants and shops are operating as usual, the residents lives are normal. Please enjoy sightseeing in Hakone!
▼ Hakone Portal Website
https://www.hakone.or.jp/en/
---
Ride Odakyu's Romance Car from Shinjuku, Tokyo for about 90 minutes and you'll arrive at the gateway to Hakone, Hakone-Yumoto Station. Given how easy it is to get to, Hakone is one of Japan's leading hot spring areas, commanding popularity with guests from overseas as well. There are quite a number of attractions in the area, including both art and history museums as well as places full of the majesty of nature like Mt. Fuji and Lake Ashi. When sightseeing in Hakone, it's quite convenient to use the Hakone Freepass.
Hakone-Yumoto Hot Spring Town
箱根湯本温泉街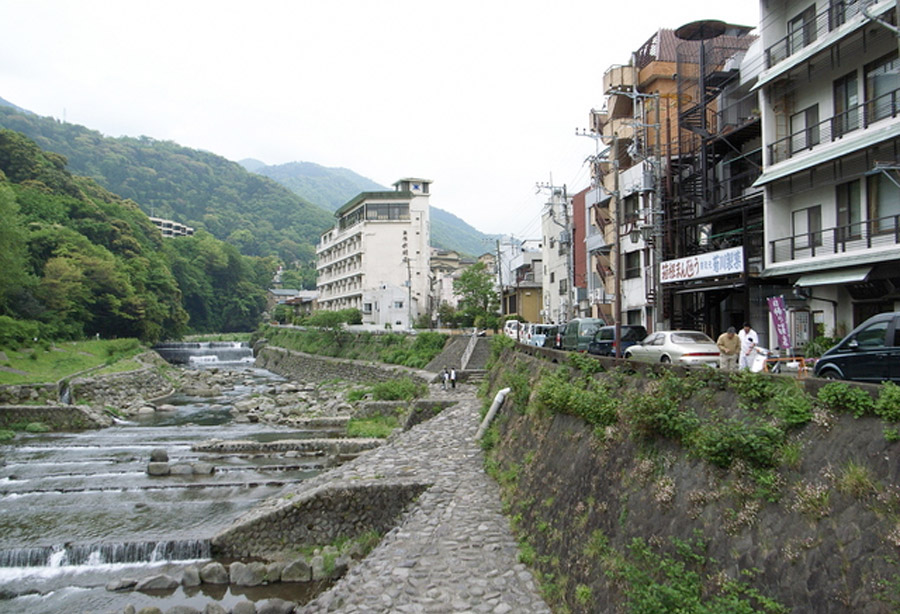 It's fair to call this Hotspring town the gateway to Hakone. It's Hakone's largest hot spring town, with a great number of hotels and inns along the two rivers that flow near the last stop for the Odakyu's Romance Car, Hakone-Yumoto Station,. Shops selling souvenirs line the front of the station, and there are quite a few hot spring facilities available for day-trippers.

Hakone Tozan Railway
箱根登山電車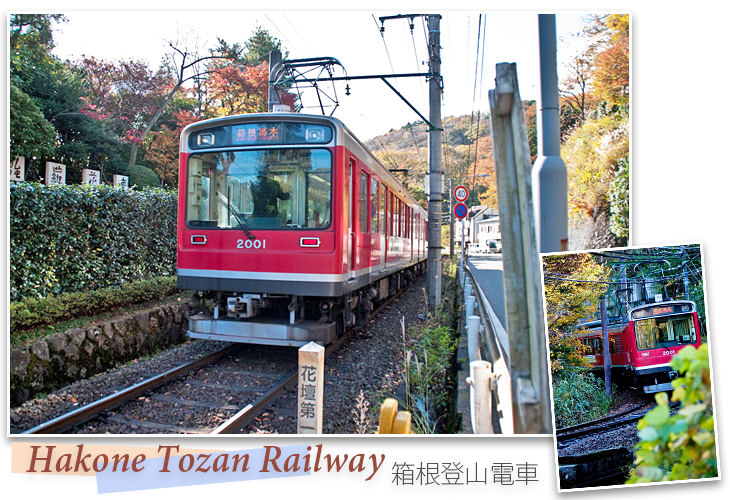 This is a mountain railway running from Odawara to Gora. There is a steep incline between Hakone-Yumoto Station and Kowakidani Station, so the railway climbs up it in switchbacks. From the window you can enjoy the ever-changing natural scenery of the seasons: the riot of blossoming hydrangea in the early summer and the blaze of autumn leaves in the autumn.

The Hakone Open-Air Museum
彫刻の森美術館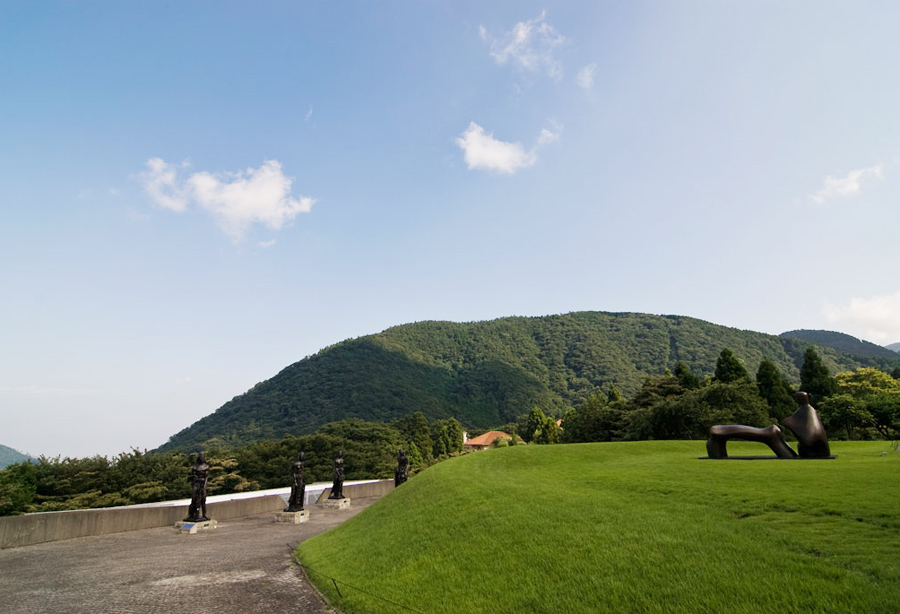 Overlooking the mountains of Hakone from 70,000 m² of spacious grounds, this outdoor museum exhibits over 1250 different sculptures. Arranged on the lawns, you can see massive works by modern and contemporary sculptors like Picasso and Henry Moore up close. This is the perfect museum for enjoying art alongside the grandeur of nature and its seasonally-shifting countenance.

Gora
強羅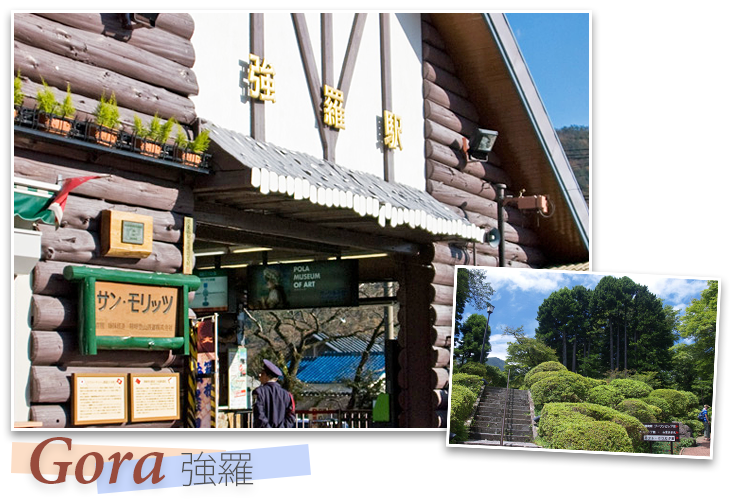 You can enjoy the seasons in all their beauty in Gora, a new hot spring town in Hakone located on a plateau about 700 meters above sea level. Just a minute's walk from Gora Station you'll find the inn, "Ki no Yu Setsugetsuka". At Setsugetsuka you can enjoy the hot springs of Hakone with their large communal hot springs baths and rooms with en suite open air baths. From here, it's quite easy to get to tourist destinations like the Hakone Open-Air Museum and Owakudani as well.

The Cable Car
ケーブルカー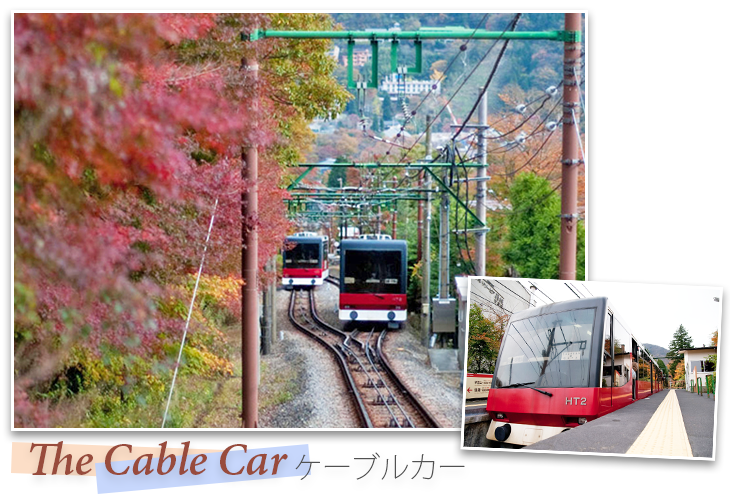 This cable car is the second oldest in Japan. It connects Goya with Sounzan, the ropeway's departure station, and the journey lasts about 10 minutes. The step-style two-car trains are Swiss-made. Because you travel in a straight line while ascending to an altitude of 208 meters, you'll understand just how steep the slope is when you look out the rear of the train.

The Hakone Sightseeing Cruise ("Hakone Pirate Ship")
箱根海賊船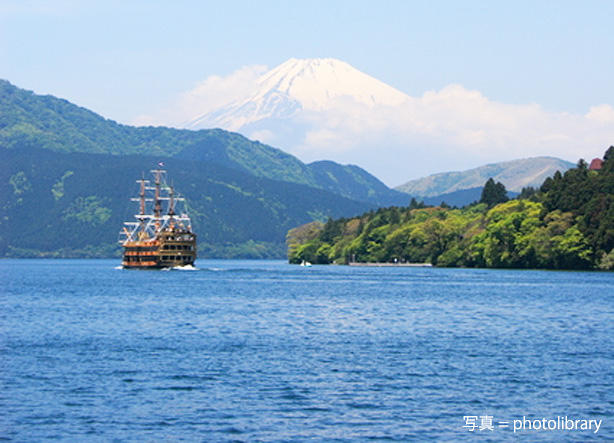 This cruise of Lake Ashi departing from Togendai is quite enjoyable. The tour ships, which are done up to look like pirate ships, do a round trip going from Hakone – Moto-Hakone- Togendai then back to Hakone. The ships currently in service are the Victory, modeled on a British battleship, the Vasa, modeled on a Swedish ship, and the Royal II, modeled on a French battleship.

Hakone Shrine
箱根神社(九頭龍神社)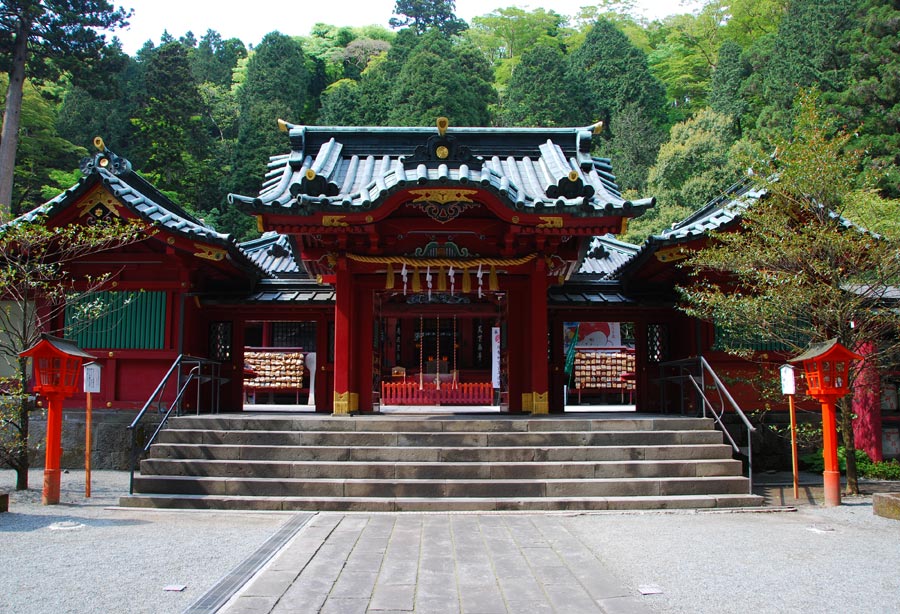 This shrine dates back over 1200 years. The shrine is believed to offer good luck relating to traffic safety, the answering of earnest prayers, and the prevention of bad fortune with the encouragement of good, but it has also had as of late many female visitors due to its reputation as a "power spot" for better luck in love.

Former Hakodate Imperial Villa (Onshi Hakone Park)
恩賜箱根公園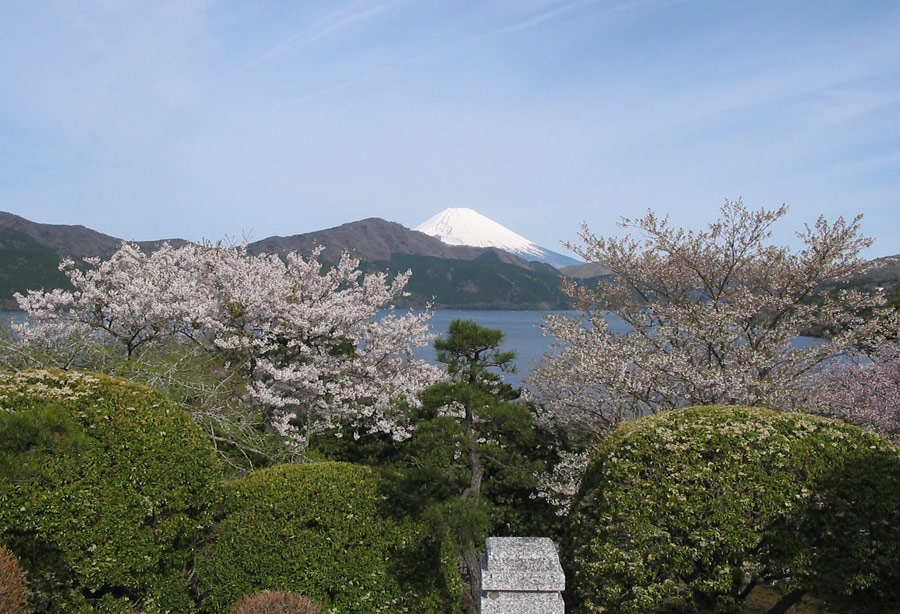 From a lookout on a peninsula called Togashima that juts from Lake Ashi you can enjoy a spectacular view of Mt. Fuji and the Hakone somma volcanic mountain. Flowers bloom gorgeously throughout the area: azaleas around May and goldband lilies from summer into autumn. There are also many attractions in the area, such as the ruins of the Hakone checkpoint and the avenue of Japanese cedars where old Tokaido road once ran.

For your most impressive experience in Japan.

Hakone Ropeway & Pirate Ship,
Gotemba Premium Outlet, All-you-can-eat Yakiniku Lunch
[Travel with a coach equipped Free WiFi & Electrical Outlet]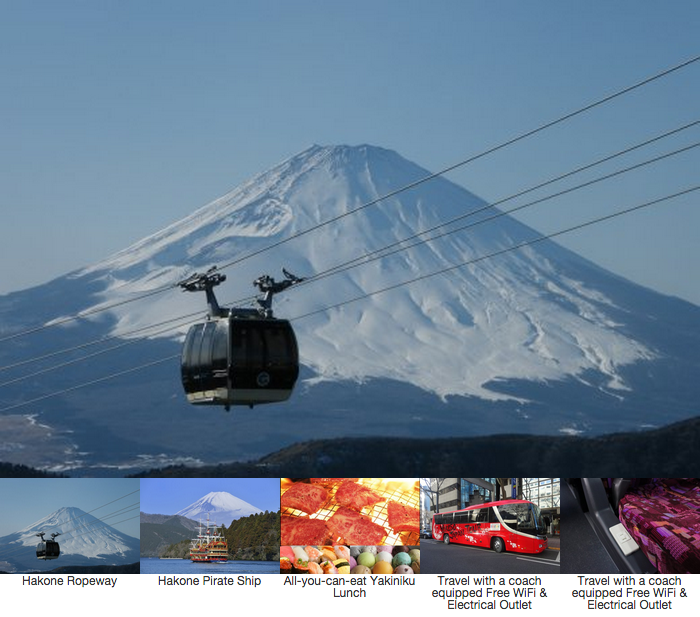 Highlights
◆Visit one of Japans most famous tourist destination 「Hakone」while enjoying the views of Mt Fuji on the Ashinoko (lake) Cruise and the ride of the Ropeway.
◆Take a walk amongst the volcanic fumes of Owakudani.
◆Enjoy all-you-can-eat lunch [60min]. You can also eat yakiniku,sushi, curry, French fries, deserts etc as much as you like♪
◆Enjoy shopping at Gotemba Premium Outlets, one of the largest outlet shopping malls in Japan, which overlooks Mt Fuji.
◆There will be a raffle event held on board the bus to win prizes!
◆Get a free folding shopping bag!
◆This tour will be operated with a coach equipped Free WiFi & Electrical Outlet
Your Japan Travel Made Easy.

【2 to Go! Private Tour】Get great value for money! World Heritage Site Mt Fuji, Hakone Ropeway, Hakone Sightseeing Cruise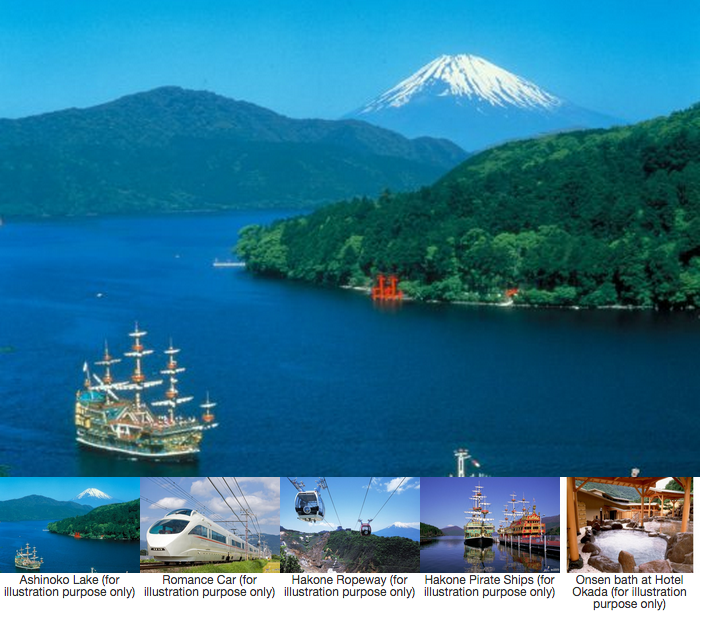 Highlights
★This package integrates one night stay at a ryokan in Hakone, round-trip train tickets from Shinjuku to Hakone, and a Hakone Free Pass (2-Day Type).
Great value for money with so many included!!
★Hakone Free Pass is a must for sightseeing around Hakone, which grants you unlimited rides on Hakone Mountain-climbing Train, Hakone Ropeway, Hakone Pirate Ships, among others!
★You will stay at a Japanese-style Ryokan with onsen. Rinse away your accumulated fatigue there!
★This is an independent trip, no tour guide will go along.
★★At additional cost we can extend your hotel stay. Please consult us for details.★★
Find your Hotel or Ryokan.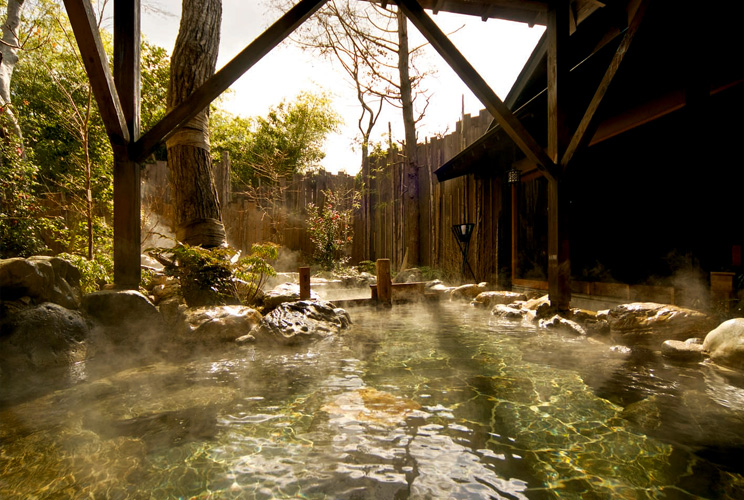 Detail
Tokinoyu Setsugetsuka is located just in front of Hokone Tozan Railway Gora Station and overlooking the Hakone mountain range. All guest rooms are fully equipped with a private open-air bath. Tokinoyu Setsugetsuka also features the vast Japanese Garden, bedrock bath and multiple dining rooms.