Traveling Tokyo on the Subway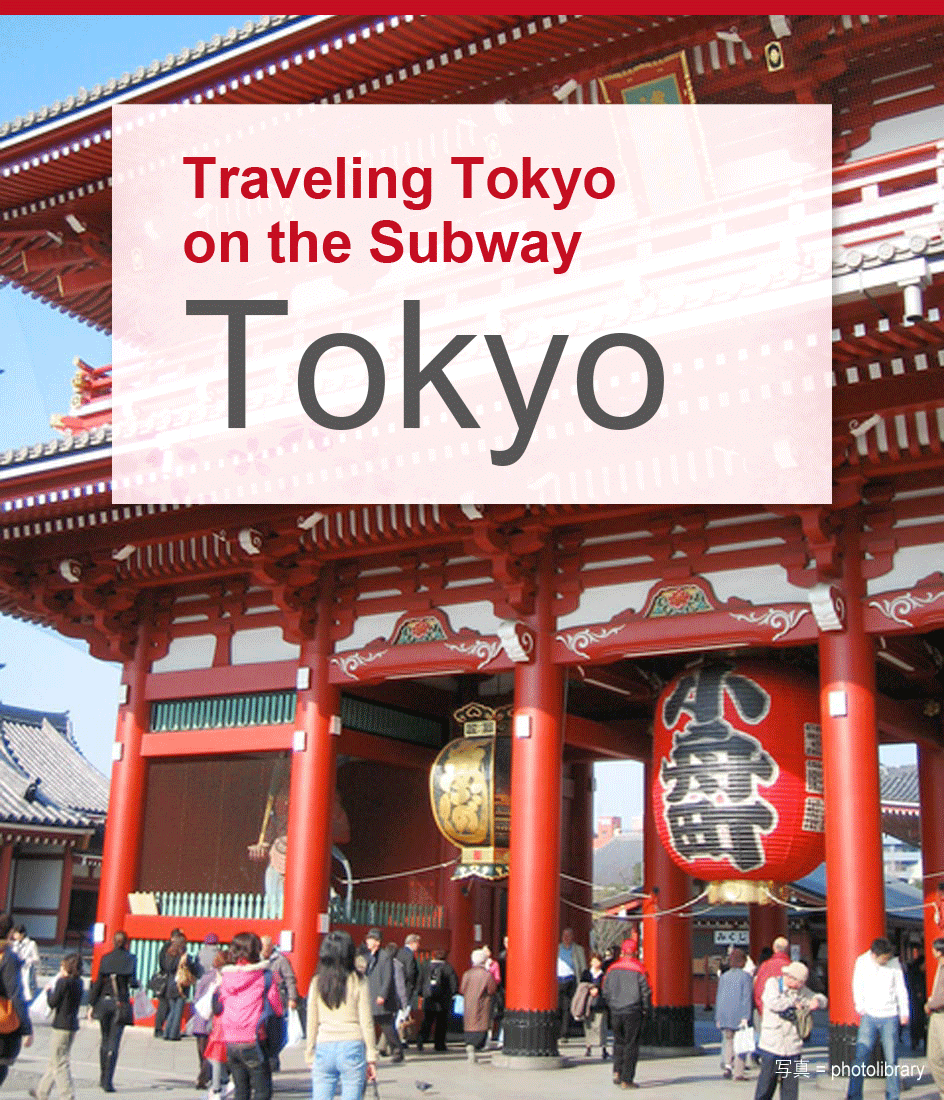 When it comes to convenient ways to get around Tokyo for sightseeing, nothing beats the subway! Strategically using the sprawling subway network underneath Tokyo will allow you to efficiently get around all the top sightseeing spots, such as Asakusa, Ginza, Tsukiji Fish Market, Akihabara, and more. Subway passes that let you ride the Tokyo Metro lines as much as you want for the same price are a great way to enjoy Tokyo touring to your heart's consent. This special will cover a variety of courses spanning from Tokyo to Shinjuku.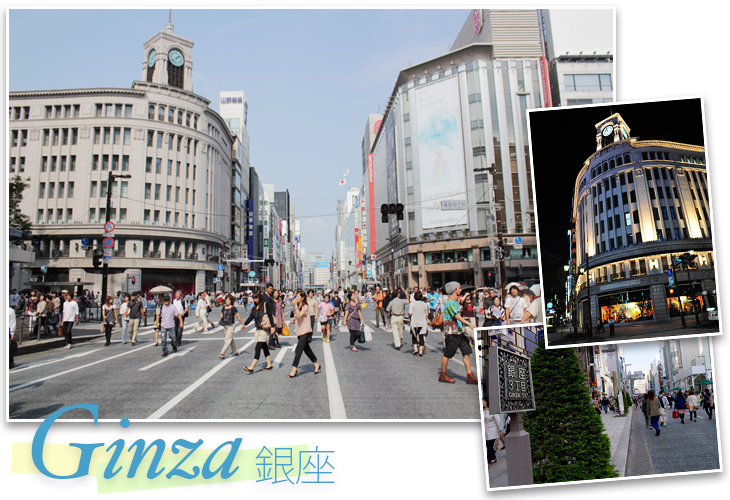 Ginza is one of Japan's finest luxury shopping districts, with the world's top brand shops lining streets throughout the area. Centered around the Ginza Yoncho-Me street crossing, visitors can find a variety of boutique and jewelry shops, restaurants, department stores, and more. The shopping areas located beneath department stores are an absolute must-see as well, with cuisine from around the world lined beautifully throughout, a true sight-to-see even before you try a bite. Arrive at Ginza by taking a 1-minute ride on the Tokyo Metro Marunouchi line from Tokyo Station. You can walk there directly as well.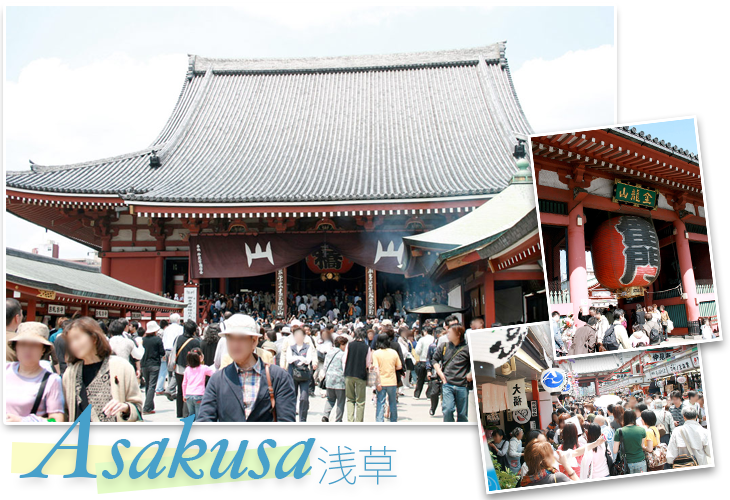 Asakusa is Tokyo's single most famous spot for tourism. The top place to visit in Asakusa is none other than the Kaminarimon gate, ornamented with large lanterns, followed by Nakamise-Dori, and finally the Sensoji Temple itself. A short walk away, visitors can also find the Kappabashi Dougu Street, which is full of shops selling cooking and eating utensils, fake food samples, and more, offering another spot popular among foreign tourists. It takes about 16 minutes to get to Asakusa station using the Tokyo Metro Ginza line.


From Asakusa to
Shibuya 渋谷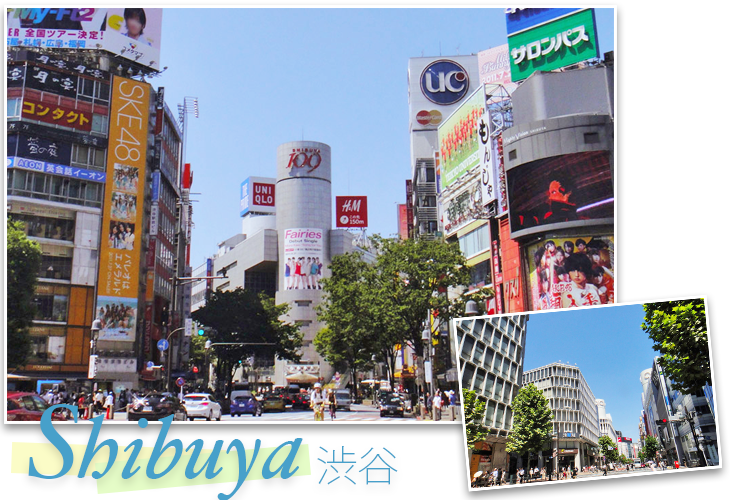 Shibuya stands as a symbol of young Japanese culture, and its famous "Scramble Intersection" is a place you'll want to see for yourself at least once while in Japan. The area is also full of attractive spots for tourists interested in Japanese fashion, hosting not only Shibuya 109, known for being the ground floor of new Japanese fashion, but also fingernail decoration shops that let visitors try out the latest nail fads, hair salons, and more. Shibuya is located about 32 minutes away from Asakusa using the Tokyo Metro Ginza line.


From Shibuya to
Harajuku 原宿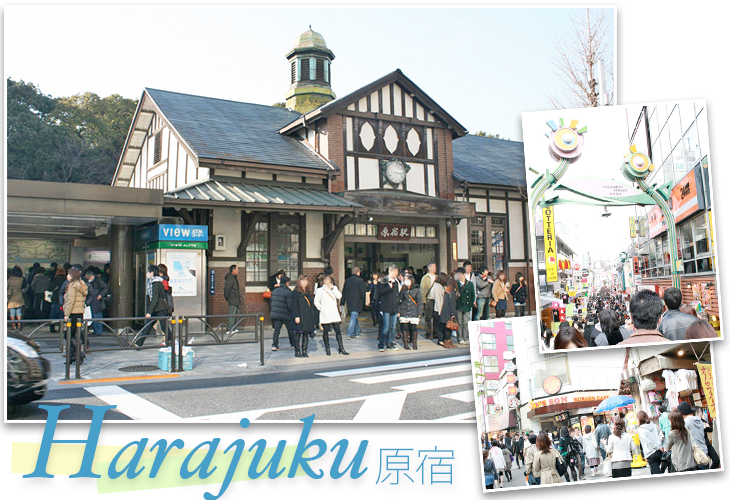 Harajuku is a trendy area that, like Shibuya, also hosts a variety of different fashion items. Takeshita-Dori, the street known for its boutique and accessory shops, as well as its delicious crepes, bustles with young people in search of "Kawaii" goods. Visitors can get from Shibuya to Harajuku using the Tokyo Metro Fukutoshin line. The closest station is Meiji Jingu station, located about 3 minutes away.


From Harajuku to
Shinjuku 新宿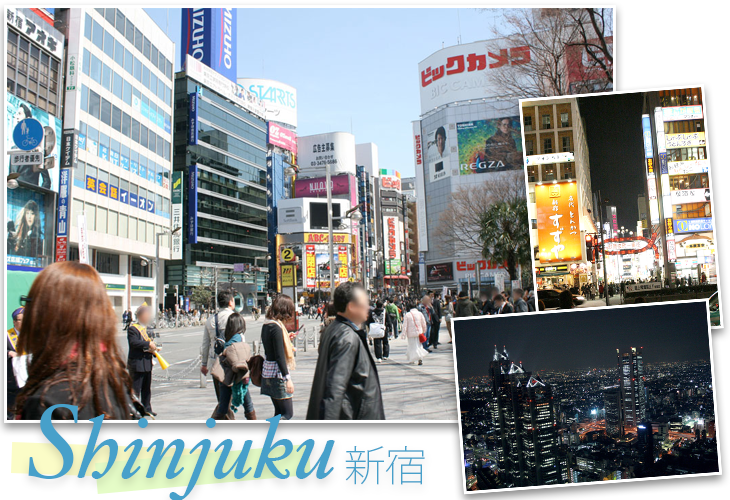 Shinjuku contains Japan's largest entertainment district, with famous sections including Kabukicho and Golden Gai. Shinjuku also has a major business district lined with skyscraper office buildings including the Tokyo Metropolitan Government's head office. The area is also convenient as a place to stay the night, with the Shinjuku Prince Hotel and many other lodging facilities located near stations, making it a popular hotel spot among foreign tourists as well.


Kamiyacho Station
TokyoTower 東京タワー
A classic Tokyo sightseeing spot, Tokyo Tower was Japan's tallest free-standing tower for more than 51 years, ending with the opening of Tokyo Sky Tree in May 2012. Below the tower visitors can find Foot Town, which contains an aquarium, restaurants and souvenir shops. 7 minutes by foot from Exit 1 of the Tokyo Metro Hibiya line's Kamiyacho station.


Tsukiji Station
Tsukiji Fish Market
築地市場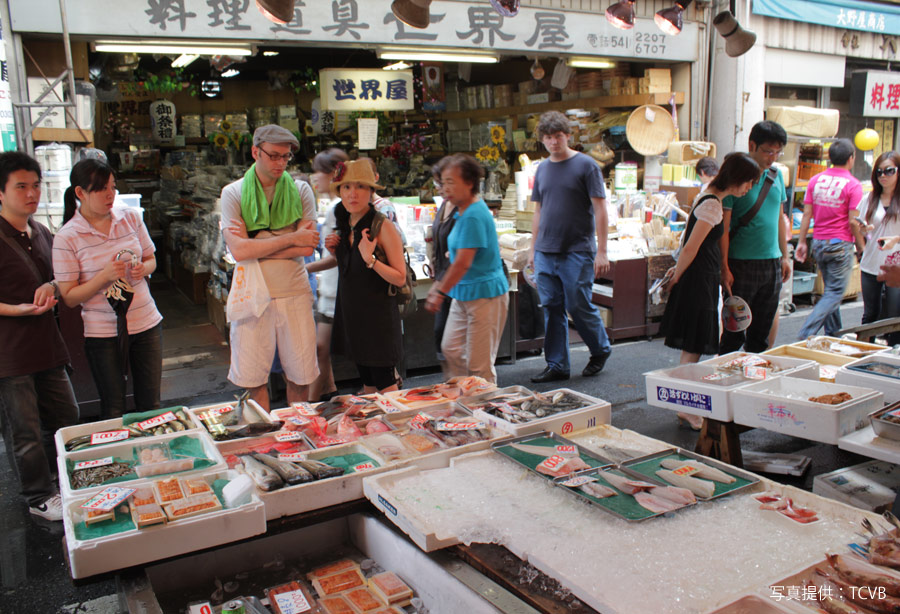 The world's largest fish market, Tsukiji is highly popular as a sightseeing spot among many foreign tourists as well. Tours of the tuna wholesale area (reservations required) are in particularly high demand. The outer market located next to the central area allows general visitors to make purchases and eat meals. A 5 minute walk away from Tsukiji station on the Tokyo Metro Hibiya line.


Akihabara Station
Akihabara 秋葉原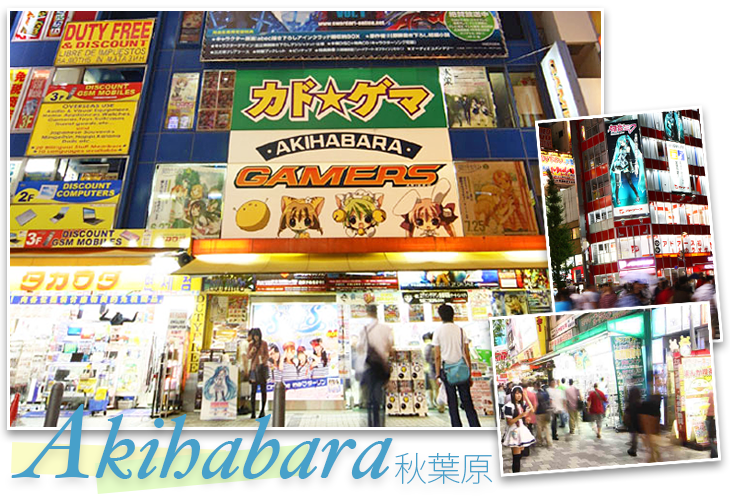 Akihabara is the world's largest electronics district, with many different electrical appliance shops found throughout the area. Akihabara is also a holy spot for lovers of "Otaku" culture, with manga, anime, and Japanese idol-related products sold basically everywhere. Visitors can enjoy a taste of subculture found only in Japan at local "Maid Cafes" and more as well. Get there by going to Akihabara station on the Tokyo Metro Hibiya line.


Oshiage Station
TokyoSkyTree
東京スカイツリー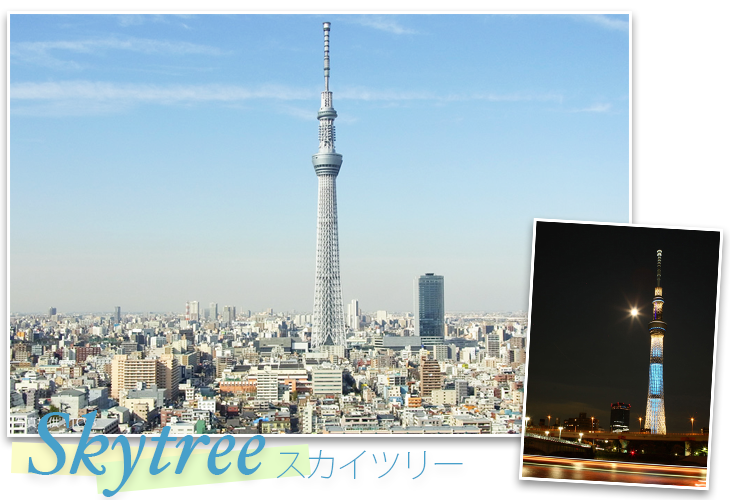 Officially opened in 2012, Tokyo Sky Tree, at a whopping 634 meters tall, functions as both a radio tower and tourism spot. The tower provides two different viewing platforms at which visitors can enjoy a sprawling view of the Tokyo landscape. The Solamachi shopping area, located within the tower itself, also offers a varied choice of shops and restaurants. The closest station is Oshiage station on the Tokyo Metro Hanzomon line.

For your most impressive experience in Japan.

[Tokyo Shopping] Japan's Fashion Mecca Harajuku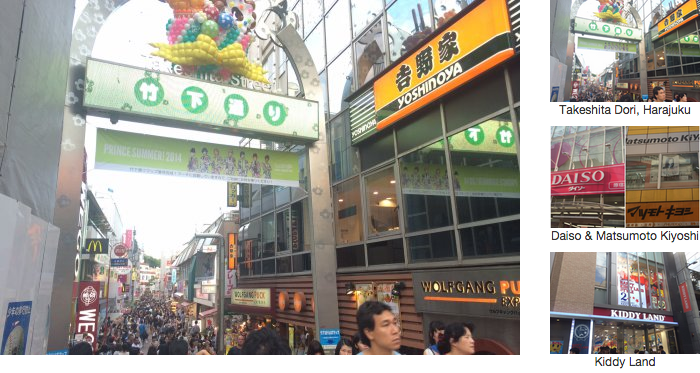 Highlights
●Stroll around Japan's Fashion Mecca Harajuku
●Visit most popular shopping spots
1. Kiddy Land: You can see and buy all sorts of character goods.
2. Daiso: You can find all sorts of fancy and handy goods for just 100JPY.
3. Matsumoto Kiyoshi: You can find all sorts of drugs, toiletry, and cosmetic and makeup products.
Your Japan Travel Made Easy.

【Simple Tour Plan Tokyo】4-day in Tokyo, Breakfast and half-day sightseeing tour included.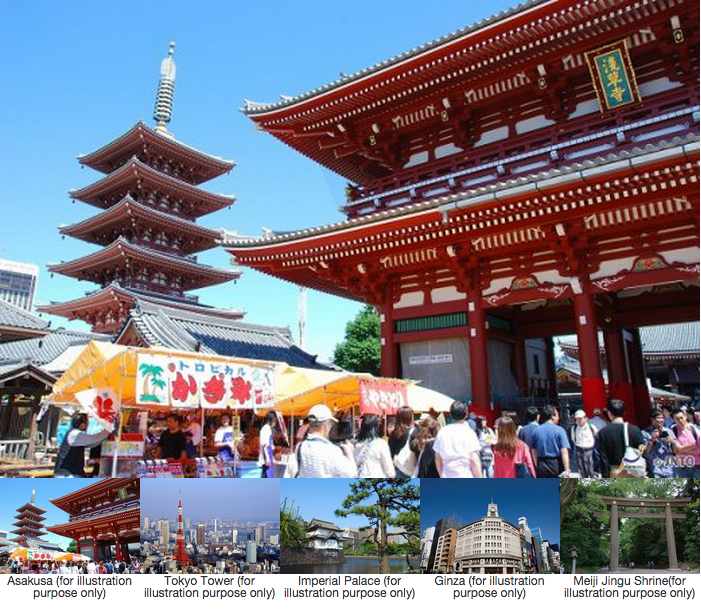 Highlights
◆This tour combines stay in urban Tokyo(3 nights)and half-day Tokyo sightseeing bus tour.
◆The half-day Tokyo tour will go to Tokyo Tower, Meiji Jingu Shrine and the Imperial Palace(the narration will be in English.)
◆A single-person reservation is also OK!
【Kawaii Tokyo】Unlimited use of glittering rhinestones and other decorative pieces!
Gel nail Unlimited Rhinestones plan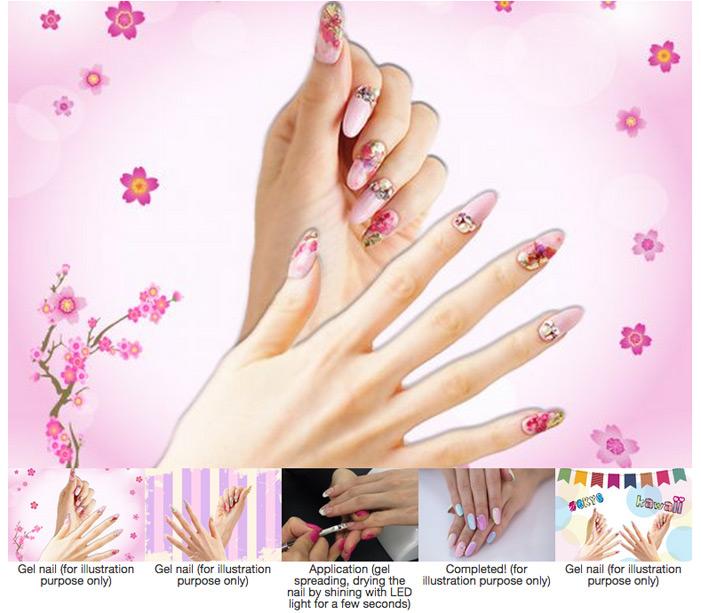 Highlights
☆☆Japan's popular "Kawaii gel nail"☆☆
★Dress up your nails like a princess with shiny rhinestones!
★This plan provides you a special fixed price for nail application service with unlimited rhinestones! Same price no matter how many stones you want to add!
★Let's enjoy Japan with gorgeous and customized nail art!
Comparing to manicure, gel nail has longer durability and stays for about 3~4 weeks on your nails.
By using gels which are made from newly developed materials, only 5 seconds are needed for curing so you can save your valuable time to explore the fashionable town of Shibuya!
★Just tell the interpretation staff your requests!
**You need to be over 16 years of age to apply for this course.**
Find your Hotel or Ryokan.

Shinjuku Prince Hotel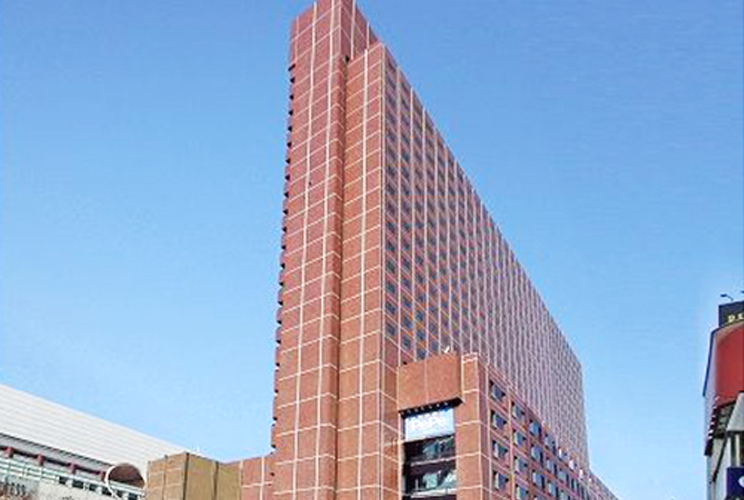 Detail
Shinjuku – a city constantly on the move. Here in this fast-paced subcenter of Tokyo, you'll find the striking, brick-colored tower of the Shinjuku Prince Hotel, which boasts 571 guest rooms and the trendy shops of the Seibu Shinjuku PePe.